BBC Scotland set to shed up to 120 jobs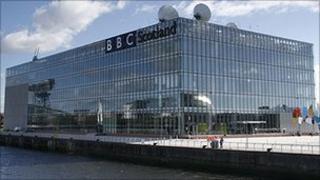 BBC Scotland is set to shed up to 120 jobs by 2017 as part of a drive to cut its budget by 16%.
The job losses, which equate to nearly 10% of BBC Scotland's staff, were announced by director Ken MacQuarrie at the broadcaster's HQ in Glasgow.
The announcement follows a nine-month staff consultation branded Delivering Quality First (DQF).
Mr MacQuarrie said tough decisions had to be made in the light of the freeze to the licence fee.
The BBC's director general Mark Thompson earlier announced that a total of 2,000 jobs would go across the UK by 2017 as it faced the challenge of finding savings over the four years to April 2017.
Mr Thompson said "compulsory redundancies could not be ruled out".
The overall savings target incorporates the 16% drop in revenue from the licence fee, and an attempt to claw back 4% of current expenditure to re-invest in new content and digital developments.
In last year's government spending review, the BBC licence fee was frozen at £145.50 until 2016-17.
Mr MacQuarrie said BBC Scotland would ensure that the majority of its savings would be sourced from improved productivity and efficiency measures that had "least impact" on content and services.
About 6% of the planned DQF budget reduction will be delivered by cutting programmes, with the remaining 10% coming from productivity savings in content areas and "efficiency measures" in non-content areas.
Mr MacQuarrie said between 100 and 120 posts at BBC Scotland would potentially go over the next few years.
That will include 30 jobs in news and current affairs, which currently employs about 230 people, and between five and eight posts from the Gaelic department. About 30 jobs will go from operations and support areas, and about 35 posts from craft and production teams.
'Tough decisions'
Mr MacQuarrie told staff that the scale of the financial challenge to deliver BBC Scotland's ambition was "tough".
He continued: "Our target is to achieve a reduction of 16% of the BBC Scotland budget by 2016-17. That 16% is calculated against a baseline of £102m, resulting in reductions of £16.1m.
"We believe that these DQF reductions will lead to the closure of between 100 and 120 posts between 2012-13 and 2016-17.
"We will also need to complete the final year savings of the five-year continuous improvement programme (which is 2012/13) by closing the last 20 posts under that plan."
On a positive note, the director said network supply had been "a huge success story for Scotland so far".
He explained: "While the proportion of network TV production spent in London and parts of England reduces, Network Supply Review (NSR) will continue to expand the spend on TV production in Scotland as a proportion of the overall total network TV spend.
"We have already made significant progress against our NSR targets - in 2007 only 3.3% of the network TV budget was spent in Scotland, but by 2010 this had more than doubled to 7.4% ahead of our 2012 target of 6.2%.
"We expect to meet the 8.6% target earlier than 2016 and indeed to exceed it by the end of the Charter."
He added: "We do have to take some tough decisions on our spend on services and content for audiences in Scotland and there will be some reduction but we will safeguard the output which is most valued by our audiences and which best fulfils our role as Scotland's national public service broadcaster."
The proposed content reductions will now undergo a period of consultation with the public before final decisions are made early in 2012.