Glasgow chef sees stars over 2012 Michelin Guide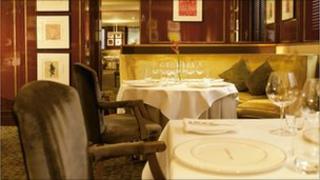 A Glasgow restaurateur has criticised the Michelin Guide, after the city failed to gain a starred restaurant for the eighth year in a row.
Derek Marshall, chef and owner at Gamba in the city centre, said it had "become a bit of a joke" that Glasgow's cooking talent had not been recognised.
He said the disparity with Edinburgh was "getting ridiculous" after the capital secured a new Michelin star.
Glasgow has not had a Michelin-starred establishment since 2003.
The Michelin Guide Great Britain and Ireland 2012 includes three new starred Scottish restaurants - Glenapp Castle in Ballantrae, South Ayrshire, Balloch-based Martin Wishart at Loch Lomond and Castle Terrace in Edinburgh - bringing the total in the capital to five.
Scotland now has a total of 16 restaurants bearing at least one Michelin star. Andrew Fairlie at Gleneagles is the only establishment with two stars.
Mr Marshall said: "It's become a bit of a joke.
"I just don't understand it. We are widely recognised to be one of Scotland's best seafood restaurants with a loyal following built up over 13 years but that doesn't seem to be enough for the Michelin Guide.
"The disparity with Edinburgh is getting ridiculous - I think they just have a blind spot when it comes to great food in Glasgow."
Paul Cordle, from Michelin, denied there was any geographical bias in the selection of stars.
He continued: "The reason there is no Glasgow restaurant in the guide is that no one has opened one that achieves the required standard to get a star.
"Restaurant owners and customers are always welcome to put a name forward and we will send an inspector to take a look at it."
'Value for money'
One Glasgow restaurant - Stravaigin - managed to secure a new Bib Gourmand in the latest guide for serving good food at moderate prices.
Stravaigin owner Colin Clydesdale said: "The Michelin star may have eluded Glasgow yet again this year but I'm as proud of this as any accolade.
"Our food is not only great quality but is accessible to people on a day-to-day basis and can be enjoyed in a relaxed atmosphere.
"This is great news for Glasgow and maybe it reflects the city's appreciation of value for money."
It was not all good news for Edinburgh this time around.
Michelin deleted its star for the city's Plumed Horse. A second restaurant - the Champany Inn in West Lothian - also lost its star.
Glasgow has not had a Michelin-starred restaurant since Gordon Ramsay closed Amaryllis in 2003.