Concern grows over Longannet carbon capture plans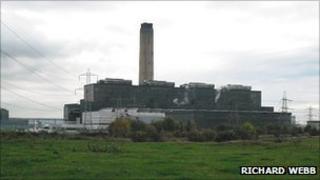 Concern is growing that plans to develop carbon capture and storage (CCS) technology at Longannet in Fife could be close to collapse.
ScottishPower is bidding for £1bn in funding from the UK government to help pay for the project.
Both ScottishPower and the Department of Energy and Climate Change insist negotiations are continuing.
But sources have told BBC Scotland the future of the scheme is now in serious doubt.
They said there were question marks over the UK government's commitment to an "as-yet unproven technology".
A year ago, the Longannet project became the only entrant in a CCS competition run by the UK government for £1bn of funding, after energy giant E.On dropped plans for a plant at its proposed Kingsnorth power station in Kent.
In June, ScottishPower and its partners National Grid and Shell UK announced plans to create an onshore pipeline carrying up to two million tonnes of carbon dioxide (CO2) as part of a CCS scheme to pump emissions from Longannet to the North Sea.
'Storage hub'
A Scottish government spokesman told BBC Scotland: "With our unrivalled natural resources, decades of experience in the North Sea and an excellent base in science and engineering, Scotland can be Europe's carbon storage hub.
"Longannet remains a contender in the CCS competition and ScottishPower are continuing to discuss its role with the UK government."
Richard Dixon, director of environmental organisation WWF Scotland, said the news was "deeply worrying".
He added: "If the UK truly wants to lead the development of this technology, as many politicians have said, then we do hope that all those involved can find a way to make this project happen.
"It would be a major blow to international efforts to develop carbon capture and storage if this scheme were not to happen at Longannet."
Longannet, which is the UK's second largest coal-fired power station and Europe's third largest, is among the biggest polluters in the country.
It produces energy for two million people and emits between seven million and eight million tonnes of carbon dioxide a year.
Last May, a study by Scottish Enterprise suggested more than 5,000 Scottish jobs could be created if three proposed CCS schemes - including one at Longannet - went ahead.
The research also suggested CCS developments could boost Scotland's economy by more than £3bn.