Scottish economy 'growing but slowing'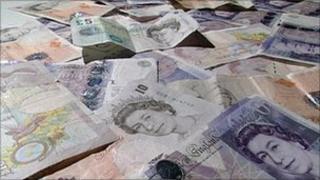 A survey of business managers has provided further evidence that Scottish economic growth is slowing.
The Bank of Scotland's latest Purchasing Managers' Index (PMI) indicated Scottish private sector output growth increased for the ninth month running in September.
But the month-on-month growth was the slowest since the start of 2011.
The slowdown primarily reflected weaker growth of goods production compared with August, it found.
However, manufacturing output continued to expand "solidly", and at a slightly faster pace than service sector activity.
The survey is the latest evidence of a slowdown in Scottish economic activity.
Earlier this month, the Lloyds TSB Scotland Business Monitor suggested the private sector showed only marginal growth in the first eight months of the year.
And a recent CBI/PwC survey of the UK financial services sector found growth continued to slow in the three months to September.
'Lower demand'
The latest PMI survey suggested private sector employment fell for the second month in a row, as new business levels dropped for the first time in nine months.
The decrease in new work was underpinned by lower demand at services providers, while firms operating in the manufacturing sector registered broadly no change in new orders.
Staff cuts were confined to the service sector, where jobs were lost at a rate broadly similar to August.
Cushioning the drop in overall employment was a solid rise in headcounts at manufacturers - the sharpest for four months.
Stalling demand also meant that tariffs rose only modestly on average during the latest survey period, despite sharp cost pressures.
Cost inflation north of the border "remained sharp" in September, with service providers and goods producers both reporting a rise in input prices for energy, food and fuel.
Moreover, Scotland saw the steepest monthly rise in input prices of all UK regions covered by PMI surveys.
Bank of Scotland chief economist Donald MacRae said: "Both jobs and new orders fell in the month but new export orders saw a modest increase.
"Manufacturers increased output at a solid rate despite strong cost pressures.
"This month's PMI suggests the Scottish economy continues to grow but is slowing in common with the rest of Europe."
Finance Secretary John Swinney said: "It is positive news that private sector business activity in Scotland expanded for the ninth consecutive month in September, but this survey confirms that there is absolutely no room for complacency.
He reiterated calls for the UK government to deliver the so-called Plan MacB.
This would involve accelerated capital investment, access to finance and the stability involved in a guarantee of no compulsory redundancies in the public sector.
Mr Swinney also said the Scottish government needed greater access to key levers of economic growth, such as corporation tax and borrowing powers.