Website promotes careers in financial services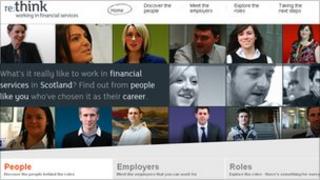 A new website has been launched to help promote careers in Scotland's financial services sector.
The re:think site was launched by Learning and Skills Minister Alasdair Allan at Drummond Community High School in Edinburgh.
The imitative showcases the range of jobs available in financial services and challenges people to "re-think" their view of a career in the sector.
The site has been created by Skills Development Scotland (SDS).
SDS worked in partnership with Scotland's Financial Services Skills Gateway - an employer-led initiative which aims to take Scotland's financial services talent to world-class levels by directly matching skills provision to the needs and priorities of the sector.
According to the Financial Services Skills Council, the sector currently employs about 91,000 people - nearly 4% of Scotland's workforce.
'Right skills'
Speaking at the launch, Dr Allan said: "To compete successfully, both here and abroad, Scotland's employers need a workforce equipped with the right kind of skills.
"The Scottish government has highlighted finance as being key to the economy and resources such as re:think will help enable people to gain the skills and knowledge needed to help them prosper."
The website features information about people already working in the sector and offers practical support and advice to help people take their first step into a career in finance.
Clydesdale Bank chief executive and Skills Gateway chairman David Thorburn commented: "Many thousands of people are employed in financial services across Scotland in a wide variety of roles.
"The public might imagine that these are mundane jobs, but the new re:think website shatters that view.
"It makes clear that there are great opportunities for people who are thinking about their career choices and provides a single source of help and advice."