Walkers Shortbread in soaring costs warning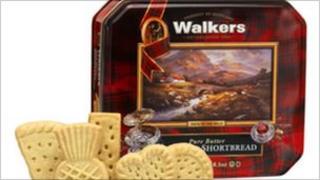 Soaring raw material costs are presenting Walkers Shortbread with "a very real challenge", the company has warned.
The warning came as the Aberlour firm reported a fall in operating profits in 2010, despite a 6% rise in turnover.
Last year, turnover reached £106.3m, while operating profits fell from £9.8m to £8.9m.
Walkers said food inflation had driven up the cost of raw materials to record levels.
In a statement, the firm said it had made "good progress" in 2010 in growing revenues across all of its trading channels.
It continued: "Turning to the current year, we are satisfied with the sales momentum of the business, notwithstanding the underlying weakness of the UK economy and sluggish growth rates seen in many of our key export markets.
'Real challenge'
"However, the alarming rate at which our raw material costs have continued to increase, even from the record levels witnessed last year, presents a very real challenge to the business.
"Indeed, if the current trends continue, we anticipate that our margins will be further eroded."
While domestic sales still represent a majority of Walkers' business, the proportion accounted for by exports increased from 36.8% to 40.9% last year.
The company, which is currently working at its manufacturing peak in the run-up to the Christmas trading season, said it was now employing a record 1,500 people.
Walkers specialises in producing shortbread, biscuits, cakes and oatcakes.