New oil and gas investment soars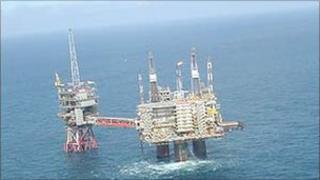 The amount spent on new oil and gas projects in the UK increased by a fifth in 2010, according to an industry body.
Oil & Gas UK said its latest report outlined the importance of the sector to the country's economy.
It said £14bn was spent on exploration and development in 2010 which included £6bn of investment in new projects - an increase of a fifth on 2009.
The industry supports 440,000 jobs, many in exploration and development and the rest supplying goods and services.
The report showed that more than 40 billion barrels of oil and gas equivalent (boe) have already been extracted from the UK continental shelf (UKCS).
It said an average of 2.2 million barrels of oil and gas equivalent (boe) were produced every day in 2010 and that this satisfied about 90% of the country's oil demand and 60% of gas demand.
Oil & Gas UK claimed that production "reduced our requirement for imported oil and gas to the extent that the UK's trade deficit was almost halved".
Of the 440,000 people employed in the industry, the report said that they were spread across the country.
Although 45% live in Scotland, one fifth live in south east England, more than 10% in north-east and north-west England and 5% in the east of England.
Malcolm Webb, Oil & Gas UK's chief executive said: "For decades to come, it is clear that on practical, technical and cost grounds the UK will still require oil and gas to provide the bulk of its energy.
"Making full use of our own significant remaining oil and gas resource - estimated to be up to 24 billion barrels - will ensure the sector continues to contribute to the UK economy in the years ahead and strengthen the country's manufacturing and engineering base through the industry's technology driven, high value-adding, world class supply chain."
Uncertain forecast
The industry body said it was now unsure whether its forecasts for investment over the next few years would be realised.
It had expected investment to develop UK oil and gas "to increase dramatically to £8bn in 2011 and be sustained at that rate for the next five years".
However it said that a surprise increase in tax announced in March by the government had "severely shaken" confidence in the industry.
Mr Webb said: "The value of projects was reduced by almost a quarter overnight and the positive effect of new field allowances that had specifically been put in place by the Treasury to encourage investment in technically challenging, small or remote fields was significantly eroded.
"The average size for new discoveries is small, at around 20 million barrels, yet development costs are high."
"A heavy tax rate, especially for projects involving additional investment in mature fields, and greater uncertainty over future tax treatment, has not helped the industry's case in proving attractive to international investors," he warned.