Saved Argyll wind tower plant 'making good progress'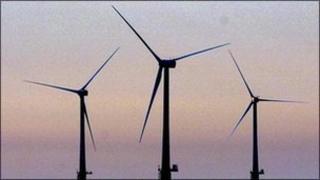 A wind tower manufacturing plant in Argyll which was saved from closure in May is making "good progress", according to its new owners.
Wind Towers Limited reported production was well under way at Machrihanish on a 32-tower order for Clyde Wind Farm.
It also said it had qualified as a supplier to wind turbine firm Siemens.
The factory was bought by Wind Towers, a joint venture between SSE and Marsh Wind Technology, after Danish parent firm Skykon filed for bankruptcy.
Skykon had taken took over the operation in Spring 2009 after the previous owners - another Danish company Vestas - decided to close it.
Wind Towers general manager Michael Nielsen said: "Production started smoothly and we have already managed to qualify as a supplier of towers to Siemens Wind Power."
He said the company had begun efforts to qualify as supplier for Vestas.
Mr Nielsen added: "There is a well-educated workforce eager to make our plant a success and I am convinced we will also achieve qualification with other turbine manufacturers."
In addition to restarting production, the plant is completing major upgrades including surface treatment facilities and new manufacturing equipment.
The upgrades will be operational by the end of November, which the company said would allow the plant to produce "just about every wind turbine tower currently on the market".
'Concrete orders'
David Steele, head of UK business development at Wind Towers, said broad interest in the company had been backed up by concrete orders.
He said: "We've recently signed a major service contract with Scottish Power Renewables supporting the further development of Beinn an Tuirc II wind farm.
"The project is already under way and will be completed by February 2012.
"Overall, we have a forward order visibility until mid-2012 and we're confident we will continue production on a stable basis afterwards."
In addition to Siemens Wind Power and Vestas, discussion about future collaboration has started with other major turbine manufacturers including RePower, GE, EWT and Mitsubishi.
The plant at Machrihanish employs 82 people from the Campbeltown and Mull of Kintyre areas.