Jobs safeguarded at wind turbine firm Proven Energy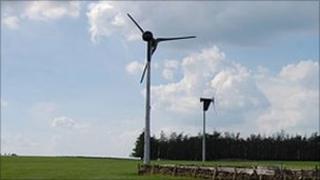 A total of 20 jobs have been safeguarded at an Ayrshire small wind turbine manufacturer after a buyer was found for the troubled firm.
Receivers KPMG were called in to Stewarton-based Proven Energy last month after a fault was found in one of its turbines and the firm did not have the finance to keep trading.
KPMG said it had now sold the business and its assets to Kingspan Renewables.
The company is part of Kingspan Group, a specialist in sustainable products.
Proven Energy went into administration with the loss of 55 jobs after a defect was identified in its P35-2 model, affecting 500 units.
It advised customers to temporarily cease using the product, although the firm's P7 and P11 models were not affected.
The receivers said the successful sale not only safeguarded the jobs of 20 Proven Energy staff but provided an opportunity for continued manufacturing at the company's Stewarton facility.
Joint receiver Blair Nimmo said: "We would like to thank Proven's remaining employees, customers and suppliers for their patience and support and would also like to thank the many parties who showed an interest during the sales process."
Turbine launches
Noel Crowe, from Kingspan, commented: "Kingspan Renewables intends to launch 6kW and 3kW turbines, incorporating the high performance, reliability and key features of the Proven P11 and P7 models, and will manufacture these products in Stewarton.
"A decision on whether or not to launch a 15kW turbine will be made at a later date, but any launch is unlikely to be before January 2013."
Meanwhile, KPMG said suppliers or customers who have any claims with regard to warranties or other matters relating to the P7, P11 and P35 turbines should lodge a claim via the receivers and not with Kingspan.
Renewable energy analyst Phil McVan welcomed the sale of the company but said it might do nothing to help those customers who had had to stop using the affected P35-2 model.
He said: "Unfortunately it seems likely that Proven's new owners will not be obliged to honour its guarantees, which is not great news for farmers who have turbines on their land that are standing idle and who invested in the technology in good faith."
Proven Energy was founded in 1980 and about 3,500 of its wind turbines have been installed in more than 60 countries over the past 31 years.