Bowleven in oil find off Cameroon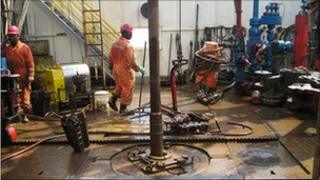 Edinburgh-based oil and gas exploration firm Bowleven has announced a new oil find off the coast of Cameroon.
The discovery was made while drilling at its Sapele-3 exploration well in the Douala Basin.
Bowleven said it had found 11 metres of oil at the Deep Omicron interval at its West African prospect.
The explorer said the interval extended "considerably beyond" its mapped area, adding it expected to revise oil estimates significantly upwards.
Bowleven now plans to drill to the base of Deep Omicron before further assessment is carried out.
The firm also intends to evaluate the extent and size of a gas condensate discovery at the site.
The company said it had now found oil at all four of the Sapele wells it had drilled so far.
Bowleven chief executive Kevin Hart commented: "We are excited with results so far at Sapele-3.
"The Deep Omicron interval continues to deliver and the confirmed presence of oil and good quality reservoir at this location further emphasises the significance of this play within the Douala Basin."
Mr Hart added: "All four Sapele wells drilled have now encountered oil within the Deep Omicron interval, thus reinforcing the geological model and highlighting the overall development and exploration potential of the fairway."