Scottish jobs market improvement 'slowing'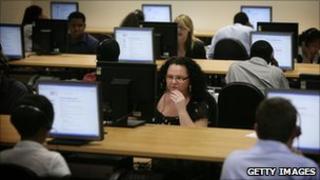 The Scottish labour market continued to improve last month but at a slower pace, according to a Bank of Scotland survey.
The bank's jobs barometer for September suggested the number of permanent and temporary staff placements increased, reflecting greater client demand.
But the improvement was the weakest in eight months.
Scotland continued to outperform the UK as a whole last month, the survey indicated.
Bank of Scotland chief economist Donald MacRae said: "These data show a welcome further improvement in the Scottish labour market in September with Scotland outperforming the UK for the sixth successive month.
"However, the rate of improvement has slowed to its weakest for eight months.
"Given the slowdown in the developed and European economies it may be challenging to maintain both the improving trend and the difference with the UK into 2012."
Dundee-based recruitment agencies posted the strongest rise in permanent staff placements during September.
Glasgow, meanwhile, registered the fastest increase in temp staff billings.
Seven out of the eight permanent employment sectors posted a larger number of job vacancies in September.
IT and computing continued to lead the overall rise, while hotel and catering was the only sector to report a fall in available job roles.