House of Bruar owners 'may sell'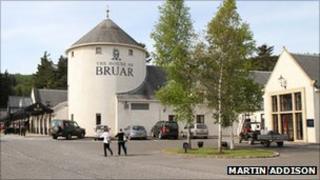 Luxury independent retailer The House of Bruar could be put up for sale following the formal retirement of its founders.
The Perthshire-based business announced the move as part of a strategic review.
In a statement, the company said founders and majority shareholders Mark and Linda Birkbeck had "decided to formalise their retirement from full-time involvement".
The store opened its doors in 1995, two years after the company was founded.
The House of Bruar said its strategic review included the possible sale of the company, "provided that a fair price reflecting the significance of The House of Bruar" could be agreed with a potential buyer.
It continued: "If it is not, then the shareholders will pursue their other alternatives and retain their ownership of the company.
'Interest expressed'
"The strategic review acknowledges the fact that in recent years a number of parties have expressed an interest to the owners in investing both in the site and brand given the potential these offer for further development.
"It should be understood that the existing management team is committed to the future of the company either independently or in conjunction with a suitable owner, should one be identified."
Spread over 11 acres, The House of Bruar offers a range of premier clothing brands such as Barbour, Gant, Hackett, Timberland and North Face. Its own label accounts for more than half of its country clothing profits.
The store also offers food, contemporary art, gifts and homeware.
The company's directors expect to achieve turnover of £24m and pre-tax profits of £4.7m by the end of this financial year.