Run-up to Christmas 'critical period' for retail sales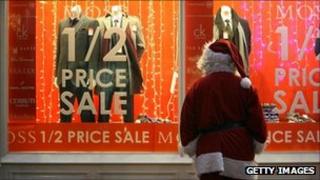 The retail sector is facing a "critical period" in the run-up to Christmas, after the latest statistics showed only a slight rise in sales.
Figures showed total sales last month were up just 0.8% on September 2010.
But the Scottish Retail Consortium said the growth was "well below inflation, meaning sales volumes are down".
September's like-for-like sales, which strip out factors such as new store openings, were down 0.6%.
The latest figures, which compare sales in September with those from the same month a year ago, come from the Scottish Retail Consortium and the KPMG Retail Sales Monitor.
David McCorquodale, head of retail in Scotland for KPMG, said: "With the last big quarterly rent cheque before Christmas having been paid and many Christmas orders placed, the retail sector now faces a critical period.
"Many promotions and sales days will occur between now and Christmas but retail chiefs will also be hoping that consumers manage to throw a little caution aside in the coming weeks and that the weather does not play as key a role as it did last year."
Tough times
The figures showed total food sales in September were up 1.5% on 12 months ago but sales of non-food items had risen by just 0.2%.
Meanwhile, like-for-like food sales were down 0.4% and like-for-like non-food sales were down 0.8%.
With total sales rising slightly, Iain Shearer, director of the Scottish Retail Consortium, said: "A slight improvement is better than no improvement but fundamentally the tough times continue for many customers and retailers.
"Total spending was just up on a year ago, better than August's fall, but growth is well below inflation, meaning sales volumes are down."
Mr Shearer said non-food sales were up on 12 months ago for the first time since Easter but "only just".
The warm end to September hit sales of autumn and winter clothes but shoppers also chose not to buy more summer clothes.
Footwear retailers had a "challenging month" with sales lower than the same time last year, while sales of homewares were "weak".
However, sales of computers were boosted by back-to-college and special deals, and the drier weather helped sales of gardening and outdoor DIY equipment.
Mr Shearer added: "Back-to-college items and other small homewares and electricals did better but the modest gains were not universal.
"Clothing and footwear sales fell because although Scotland didn't have a prolonged heatwave, the lack of cold weather meant people had little interest in winter ranges.
"Generally, people are still confining their spending to basic needs."
Responding to the latest sales figures the Scottish government said it was doing all it could, within its current powers, to boost economic security and consumer confidence in "tough times".
A spokesman added: "We have implemented a 'social wage', and a no compulsory redundancy policy for staff under our control.
"Measures such as the council tax freeze, free prescriptions and no tuition fees are helping promote consumption in Scotland by protecting household budgets at a time of rising inflation and fuel prices."