Power company Aggreko lifts profit forecast again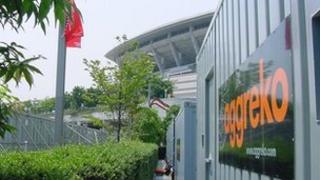 Temporary power specialist Aggreko has lifted its full-year profit forecast for a second time, following a strong third-quarter performance.
The firm said it expected pre-tax profits of £320m for the year - up from an earlier estimate of £315m.
That would represent an underlying year-on-year rise of 24%.
Aggreko said its main divisions performed well in the third quarter, with international power projects revenue up 26%, excluding fuel costs.
Underlying revenue in the Glasgow-based company's local business grew by 20%.
In the last quarter, revenue in North America grew by 10%, and in Europe and the Middle East by 20%.
In a statement, Aggreko said business in the Middle East had "recovered strongly".
The power supplier reported it had recently signed its first sizeable contract with an industrial company in Iraq, which it saw as being an important market in the future.
Net debt in the third quarter increased by £167m to £424m, mainly as a result of the return of capital to shareholders of £148m in July.
Chief executive Rupert Soames: "I am delighted to see both our businesses producing underlying growth of 20% or more, and we have good momentum going into the fourth quarter."