CBI issues retail business tax warning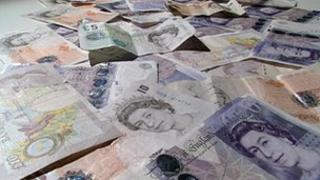 Large retailers could be put off from investing in Scotland by a planned business tax rise, CBI Scotland has warned.
The warning came after news a proposed new retail levy would come on top of an existing large business supplement.
CBI Scotland said ministers had previously proposed introducing the levy in place of the supplement.
The Scottish government argued the levy would only affect "a small number" of the very largest retailers in Scotland.
Ministers plan to raise £110m over four years from a public health levy on large retailers of alcohol and tobacco, in a move designed to tackle the cost of problems associated with drinking and smoking.
The tax would be raised via a business rates supplement from April next year.
Larger firms are already paying a 0.7p supplement on top of their main business rates bill as a contribution to the Small Business Bonus Scheme, which cuts rates for some enterprises.
Rates bills
CBI Scotland said the additional charge could mean larger retailers facing four separate bills for business rates, having already faced the removal last year of transitional rates relief in Scotland.
Assistant director David Lonsdale said: "This latest revelation demonstrates the Scottish government's determination to reap as much revenue as possible from the tax rises on businesses which it unveiled last month.
"We are deeply concerned that the tax rises being planned will make it more expensive to invest in Scotland and could put at risk much needed new commercial investment, as larger retailers often have a choice of locations elsewhere in the UK or indeed abroad for their investments and will rigorously evaluate post-tax returns on their investment options."
A Scottish government spokesman responded: "The public health levy will only affect a small number of the very largest retailers in Scotland. We estimate the levy will raise £30m in 2012-13 - just 0.1% of retail turnover in Scotland.
"Given the significant cuts from Westminster this will be used to contribute towards the preventative spend measures that will be taken forward jointly with the Scottish government, local authorities, the NHS and the Third Sector.
"The draft budget is a consultation document and we welcome all contributions on these proposals and will continue our engagement with retailers on taking our plans forward."
He added: "We will provide full details of the levy and how it interacts with the large business supplement when we lay legislation in the new year."