NAB invests in Clydesdale and Yorkshire banks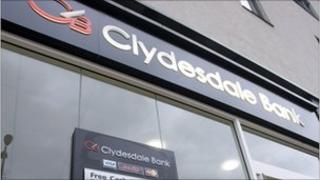 The Australian banking group NAB has said it is to continue supporting its Clydesdale and Yorkshire subsidiaries.
The company said it planned to invest £100m into the UK banks every year.
There had been speculation that the Australian group planned to sell off its UK assets.
Profits for the company's UK operation increased by 4% in the past year to more than £0.5bn, helped by a reduction in bad debts and an increase in lending to customers.
Last month the Clydesdale suffered a downgrade from the ratings agency Moody's because of a "reduction" in the "likelihood of support" for the Scottish bank from its parent company.
However NAB has insisted there was no scaling down of support for its UK division.
A spokesman for the bank said NAB had invested £100m in the UK division since 2004 and that level of investment would continue.
The 4% increase in full year profits for the UK businesses has been achieved against what the bank described as "a very difficult economic environment".
New customers
The bank said it had continued to attract new customers.
David Thorburn, chief executive, said: "Despite subdued market demand for credit, we have also attracted growing numbers of SME and mid-corporate trading businesses.
"Having advanced £7.5bn of new lending in the year, we delivered our two-year new lending commitment of £10bn three months ahead of schedule.
"We have advanced a total of £12.2bn of new lending in the past two years - supporting customers at a time when they needed it most."
The Clydesdale Bank has 152 branches and employs 4,200 people in Scotland.