Scottish house prices remain flat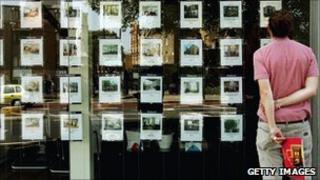 Average property prices in Scotland fell slightly in the second quarter of the year, according to new statistics.
The Registers of Scotland recorded a fall of 0.2% compared with the same period last year.
The average price of a home between July and September was £163,091.
The highest percentage rise was recorded in Stirling, which saw prices climb by 7.9% to £196,689, while Edinburgh recorded the highest average price of £225,378, a fall of 2.1%.
The largest percentage fall was in Inverclyde, which showed a drop of 9.7% to reach an average price of £125,026.
A total of 20,293 properties were sold across Scotland - a drop of 3.7% during the second quarter.
Moray showed the largest percentage fall in the number of sales with a decrease of 36.5%, while East Renfrewshire showed the largest percentage rise of 8.9% in total sales compared to the same period last year.
The total value of sales across Scotland registered in the quarter fell by 3.9% to just over £3.3bn.
Edinburgh remains the largest market with sales of more than £496m for the quarter, a decrease of 6.9% over the same quarter last year.
Aberdeenshire showed the highest percentage rise, with the value of sales increasing by 8.9%.