Scottish business board unveiled by Michael Moore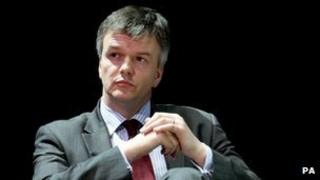 Scottish Secretary Michael Moore has unveiled a new group of advisers which aims to tackle problems facing the Scottish economy and businesses.
Mr Moore said the Scottish Business Board (SBB) would help him represent Scotland's interests in discussions on economic and trade issues at UK level.
Members include Wood Group UK head Robin Watson and Asian catering entrepreneur Shaheen Unis.
Mr Moore said it would not simply be another talking shop for business.
He argued it would provide "a sounding board" for how the Scottish economy was responding to UK and Scottish government policies.
The SBB, which will meet for the first time in Edinburgh on 21 November, will consist of 18 members drawn from a wide range of Scottish sectors, including energy, oil and gas, defence, professional services, life sciences and tourism.
Mr Moore will chair the board, which will have support from the Treasury and the Department for Business, Innovation and Skills.
Michael Moore said: "The Scottish Business Board has the expertise and knowledge to make a real difference to the way we tackle the issues facing the Scottish economy and get the most both from and for our companies across Scotland.
"I am delighted so many senior and experienced people will sit on the SBB and I look forward to getting down to the serious work ahead of us next week.
"They have a huge amount of individual ability and, together, we can bring their skills to bear on the strategic and practical issues we face."
He added: "I am clear I do not want this to simply be another talking shop for business.
"We are going to focus on finding the barriers that exist for Scottish business and work out the best ways around or through them."
The SBB will meet at least three times a year.
Its activities will feed into the UK Government's Growth Review.
Recently, First Minister Alex Salmond appointed businessman Crawford Beveridge as the new chairman of the Council of Economic Advisors (CEA), which was formed in 2007 to provide expert economic advice to Scottish ministers.
Professor Louise Richardson and Nobel Laureate Professor Joseph Stiglitz were also appointed to the council.