Sales rise for Glasgow packaging firm Macfarlane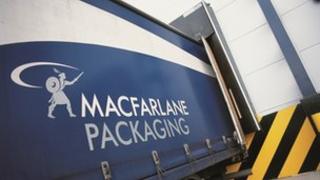 Packaging firm Macfarlane Group is looking to maintain its sales momentum after reporting a strong trading performance since June.
In an interim management statement, the Glasgow-based firm said packaging distribution sales rose year-on-year by 8%.
Its manufacturing operations saw sales growth of 4%.
Macfarlane said it expected group results this year to remain in line with expectations.
But it added demand and raw material prices continued to be "challenging".
Macfarlane Group chairman Archie Hunter said the company's priorities were to maintain sales growth and restore margins, while maintaining tight cost control.
He continued: "Macfarlane Group has a strong platform to enable it to deal with the uncertain demand levels caused by current economic conditions.
"Although we remain cautious over predictions in the current uncertain environment, the board expects that group results for 2011 will remain in line with its expectations."
Pension deficit
Macfarlane, which has been attempting to reduce its pension deficit this year, said changes to its pension scheme investment portfolio had helped restrict the impact of the volatility seen in investment markets in 2011.
However, it pointed out that further reductions in bond yields had "more than offset" that benefit.
It added: "Although the deficit on the pension scheme will have risen since 30 June 2011, the group continues to work on actions to address the means by which the level of deficit and its volatility can be managed."
Macfarlane employs 700 staff at 22 sites, mainly in the UK and Ireland, covering a wide range of sectors including consumer goods, logistics, electronics, food manufacturing and retailing.