Cashmere firm James Johnston & Co secures growth fund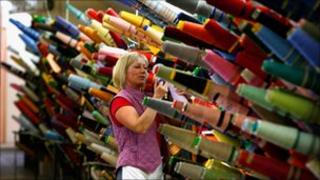 Cashmere firm James Johnston & Co plans to expand after securing a multi-million pound funding package.
The loan from Lloyds Banking Group will allow the company to expand further and it is already recruiting and looking for graduates to train.
The company, which has headquarters at Elgin in Moray and a factory at Hawick in the Borders, employs 700 people.
Sales have been rising in export markets including Asia and the Middle East.
Johnston now plans to move into emerging markets.
Turnover has risen by more than 10% in the past few years and the firm said that profits had been reinvested into the business.
Managing director of the group, James Dracup said: "As a company we supply a lot of high fashion labels and quality is always at the forefront of our business. We have invested in a number of new looms to increase capacity and flexibility.
"We look at investments to increase quality and improve service, if we also make efficiency savings as a result, that is good but it isn't a priority."
He said he was delighted to have the support from the bank.
He added: "Much of our work is seasonal, and although export markets are levelling it out, we still need to make sure we have funding in place to cover seasonal peaks and troughs."