Ethical bank Triodos expands in Scotland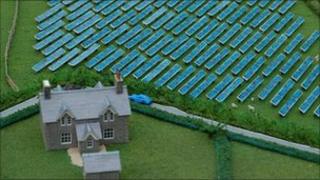 Dutch ethical bank Triodos is to expand in Scotland, opening its first high street office in the UK in Edinburgh.
Triodos said there was growing demand from people wanting to know how their money was being invested.
Personal savings with the bank are up 15% in Scotland - higher than 8% rise in the UK as a whole.
Triodos said it only used the money "to support organisations which can demonstrate a positive social or environmental impact".
The bank commissioned research which found that 84% of Scots wanted more information on what banks do with their money.
Two thirds said they would like to see banks doing more to support renewable energy initiatives and six out of 10 wanted to see more investment in community or social groups.
In Scotland, Triodos has financed projects from Eigg Electric, which is a renewable energy scheme to Hendersons cafe and bakery in Edinburgh.
Dr Bevis Watts, head of business banking for Triodos in the UK, said: "Naturally everybody wants to feel the benefit of their savings working for them but I think the financial crisis has really heightened what people's money is doing.
"People have realised that they can change banking - outside of regulation and everything else, people making a conscious choice of what their savings do is really how we get change in banking."