Report recommends Scottish youth jobs minister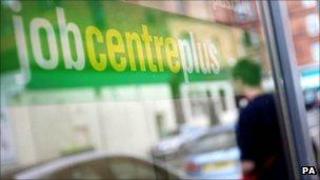 A dedicated Scottish ministerial portfolio should be set up to help young people access the labour market, a report has suggested.
The recommendation was floated in a report on youth employability by an advisory group of leading figures from Scottish business and education.
The Smith Group report looked at ways to improve support for young people at most risk of long-term unemployment.
The Scottish government said it would give it "full consideration".
The group, which is chaired by Lord Smith of Kelvin, said the costs to society of ignoring disaffected 16 to 19-year-olds were "enormous".
According to recent estimates, Scottish youth unemployment has reached the 100,000 mark.
The report stated: "We recommend that the issue is of such significance that it should be tackled through a dedicated ministerial portfolio, rather than an 'add-on' to a wider brief. This would provide the appropriate level of accountability for a national priority.
'Ministerial focus'
"To deal coherently with youth unemployment requires a strong connection between national strategy and local delivery. The group believes that this connection must be strengthened and ministerial focus would go a long way to achieving this."
It added: "Political leadership, with the funding to back it, is required to give Scotland the best chance of reducing youth unemployment."
The group also argued recent improvements in data capture on young people not in education, employment and training (NEET) provided an opportunity for "direct preventative action".
It suggested mentoring from a trusted adult role model and "engaging early in the education of a young person to ensure their learning outcomes meet their individual aspirations and competencies".
The report recommended a focus on skills development throughout a child's formal education from primary to S3 and preparation for the world of work during the senior phase and beyond.
It continued: "This should include work experience tailored to meet individual needs including, specifically, for those young people who may have disengaged - or who are disengaging - from learning."
'Partnership approach'
Lord Smith, who also chairs energy firm SSE and the Glasgow 2014 Commonwealth Games Organising Committee, commented: "This report looks at how we can further improve support for those young people at the greatest risk of experiencing long-term unemployment.
"This is an important issue and if we are to make progress we require a partnership approach from government, delivery partners and Scotland's employers."
Responding to the report, the Scottish government said it would work with some of Scotland's largest employers to deliver an action plan to improve employment prospects for young people.
Finance Secretary John Swinney said: "Jobs and growth are at the top of the Scottish government's priorities and I'm grateful to Lord Smith for his report.
"We are already taking forward much that is recommended and we will give full consideration to all the suggestions in this valuable report."
Mr Swinney outlined steps already being taken to address youth unemployment, including a record 25,000 modern apprenticeship places this year, and the 'Opportunities for All' programme which guaranteed a training or learning place for all 16 to 19-year-olds.
Mr Swinney added: "This government is taking action to help young people in Scotland fulfil their potential and we are making a difference."
Mr Swinney added the Smith Group would meet next year to assess progress the Scottish government was making.