Shops in Scotland report footfall surge on strike day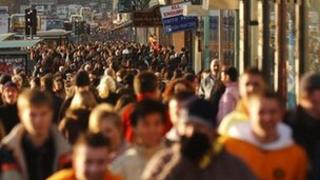 Shopping centres and tourist attractions across Scotland have reported a surge in footfall as hundreds of thousands of workers carry out a day of industrial action.
Many centres laid on special events to cater for families whose children were unable to attend school.
Silverburn Shopping Centre in Glasgow said it expected up to 15,000 more customers than on a normal weekday.
Other shopping centres reported a "significant" increase in footfall.
Vehicles were brought to a standstill on the M8 as they queued at the exit to Braehead Shopping Centre on the outskirts of Glasgow.
There were also tailbacks on the M77 as drivers exited for the Silverburn centre which was expecting 40,000 shoppers by the end of the day - nearly double what it would expect for Wednesdays.
A Silverburn spokeswoman said: "A lot of parents are taking the opportunity to take their children shopping to see what they might like for Christmas.
"With a lot of galleries and swimming pools closed today, we are also seeing many leisure visitors coming to use our facilities such as the bouncy castle, Santa's grotto and snow globe. "
The Gyle Shopping Centre in Edinburgh also reported a big increase in customers.
It brought forward the launch of its Santa grotto to cater for children, in anticipation of the rise.
Centre manager Andrew Cronie said: "A number of customers asked us if we could open the grotto today and we thought that would be a good idea."
He commented it was too early to say whether Christmas had come early for the centre.
"We will have to see how it pans out by the end of the week and whether people are coming today instead of the weekend," he said.
Many tourist attractions have also seen visitor numbers soar.
Arts and crafts
Paul Nixon, from the Scottish Seabird Centre in North Berwick, East Lothian, said business was much brisker than usual.
He said: "What we are really noticing today is that there's lots of grandparents visiting with maybe two or three children, and even by lunchtime we've had more visitors than we had for the full day this time last year.
"We have arts and crafts for the kids, and that all important cake and coffee in the cafe, making us an ideal destination while the schools are off today."
The Cairngorm Reindeer Centre, near Aviemore, also said its shop and tours of its hillside herd had been busier than staff would expect for a Wednesday outside of the school holidays.