Brazil export boost for North Sea oil firms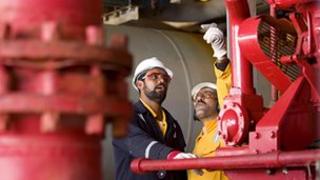 North Sea oil and gas firms looking to export to Brazil have been boosted by a $1bn (£636m) credit guarantee.
Credit agency UK Export Finance is providing the guarantee for Brazilian oil giant Petrobras to finance UK exports for its investment programme.
Petrobras is currently expanding its oil exploration and production facilities off the east coast of Brazil.
The line of credit will be provided through HSBC and other lenders.
Petrobras will nominate export contracts with UK-based companies to be financed under the guarantee.
Supplies under consideration include rigs and vessels for exploration, remotely-operated vehicles, control systems, compressors, global positioning services and hardware.
'Fantastic news'
Scottish Secretary Michael Moore, who is currently heading a Scottish trade mission to Brazil, said: "This guarantee is fantastic news for British companies and will be of particular help to firms in the North Sea oil and gas industry in Scotland.
"We have built up a huge amount of expertise in the drilling and exploration industries over the years as well as forging ahead with the new technologies needed to meet the emerging challenges facing the global industry.
"Today's news of an export guarantee underlines the important links we are building with Brazil and other emerging economies which will be of benefit to Scottish business."
UK Trade Minister Lord Green said: "UK companies have a strong track record in oil exploration through their work in the North Sea.
"This line of credit will help these companies boost their exports to Brazil and will take the best of British technology to this important and growing market."
UK Export Finance is the UK's export credit agency and works with exporters, project sponsors, banks and buyers.
Among other things, it provides guarantees for bank loans to facilitate the arranging of finance to buyers of UK goods.