Scottish mail scam campaign launched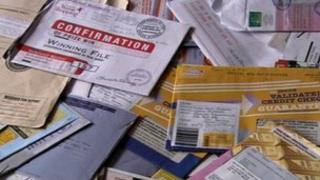 Police forces in Scotland have joined together to back a campaign against scam mail which has conned billions of pounds out of victims.
It is estimated about £3.5bn is lost to scam mail every year in the UK and many of the victims are elderly.
The Think Jessica campaign aims to highlight the issue and was started by the daughter of a woman who lost £50,000.
Marilyn Baldwin said her mother Jessica Looke had been bombarded by mail.
Ms Baldwin said it started with just one letter: "She replied to a letter which told her she had won a competition and all she had to do to claim it was send off a small fee.
'Suckers List'
"She did this and as a result of that her name got put on what's called a 'suckers list' and then it got sold to other criminals all over the world.
"So for a five year period my mum literally got bombarded with scam mail, she received around 30,000 scam letters in a five year period."
Jessica Looke is now dead and it was only then that Marilyn felt able to campaign against scam mail, because her mother would not admit exactly how much she had lost and resented the family trying to interfere in her business.
Ms Baldwin added: "The letters that followed knitted together - some of them were from clairvoyants telling her that her 'luck energy' was low and that was why she wasn't getting the money and she had to raise it by sending cash.
"Other letters would tell her that her family was against her.
"She became wrapped up with these fictional characters, she was having a personal relationship with criminals that hid inside envelopes claiming to be bankers, solicitors, clairvoyants and lottery officials."
Police backing
Although the estimate is that £3.5bn is stolen through scam mail, it could be much more as people are often too ashamed to admit they have been victims.
In one case where mail was seized it was found that 22,000 people had replied to one scam sending between them £500,000.
The Think Jessica campaign has won the backing of Scotland's police forces.
Assistant Chief Constable Angela Wilson, of Tayside Police, said: "We have seen some elderly people stripped of all their savings to the point they can't feed themselves, they can't heat themselves and indeed people who've died in abject poverty.
"We're hoping by making people aware they will see the signs to look for they'll report it to ourselves or someone else."