Scottish economy 'continues to grow'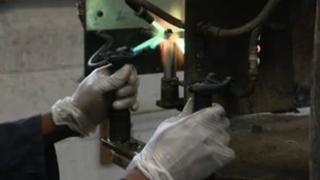 Scotland's economy continues to grow across the manufacturing and service sectors, a monthly survey has suggested.
The Bank of Scotland's latest Purchasing Managers' Index (PMI) indicated output in the private sector expanded at a modest pace in November.
Employment also increased for the first time in four months.
However, the survey found the amount of new business coming in fell for the third month running.
The index suggested output levels in general increased as a result of work on backlogs.
The drop in new work was underpinned by declines in domestic and international demand for Scotland's manufactured goods, while the service sector "softened the overall contraction" in new business.
Additional jobs were created at both goods producers and service providers in contrast with a fall in employment across the UK as a whole.
Growth 'challenge'
Bank of Scotland chief economist Donald MacRae said: "November's PMI was positive for the 11th month of this year, suggesting the private sector of the Scottish economy continues to grow across manufacturing and services.
"Both new orders and new export orders fell in the month, highlighting the challenge of maintaining growth in the face of the global slowdown.
"The November PMI at 51.1 is above both the UK and the eurozone, showing the resilience of the Scottish economy."