Scottish housing market 'expected to pick up'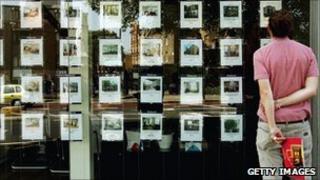 Scottish house sales were expected to pick up over the next few months but "meaningful recovery" was still some way off, surveyors have said.
The Royal Institution of Chartered Surveyors (Rics) reported a small increase in the number of houses put on the market in November.
The rise came despite the lead-up to Christmas usually being a quiet period.
The Rics report for November also found 4% more surveyors reported new buyer inquiries rose rather than fell.
Rics said the number of inquiries was a good indicator of market demand.
It also reported chartered surveyors were confident sales would pick up in the next three months but warned economic uncertainty "continued to hold the market back".
In terms of November's house prices, 8% of respondents said they had gone up - none had said this in the previous month - while 42% said prices had dropped.
This compared to 53% in October.
A total of 51% said prices had stayed the same, in the previous month this had been 47%.
Rics Scotland director Graeme Hartley said: "It is encouraging that sellers remain hopeful with more new instructions in November than the previous month and surveyors expect sales to pick up over the next few months.
"This is despite the endless negative news from Europe and the turmoil in financial markets.
"However, a meaningful recovery still seems some way off."