Scotland's hotels report monthly revenues down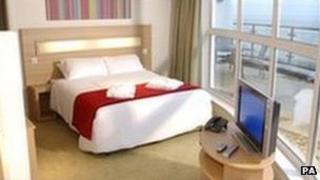 Scotland's hotels saw revenues fall and occupancy levels remain almost static in October, according to the latest monthly report by accountants PKF.
Rooms yield - the industry measure of revenue - fell 2.7% year-on-year, while England saw an increase of 0.6%. Wales slipped by 17%.
Occupancy in Scotland rose by 0.2% to 76.1%, compared with England which saw a 2% rise to 74.6%.
PKF said it had it had still been a very good year for the sector.
The reported suggested a distinct north-south divide in the performance of Scotland's hotel sector in October.
Aberdeen and Inverness increased occupancy and rooms yield, while the central belt - which was fairly static for occupancy - saw revenues fall.
'Positive result'
Alastair Rae, from PKF, said: "Although the figures for Scotland as a whole have stabilised for occupancy and fallen slightly for revenue, it should be noted that this has been a very good year for the sector and that occupancy levels of above 75% and rooms yield in excess of £50 during October is still a positive result.
"This slight downturn is not just being experienced in Scotland but the whole hospitality sector across the UK has also seen static or falling numbers."
Mr Rae said the north of Scotland continued to do well, with Aberdeen benefiting from a strong oil price and Inverness enjoying an extended tourism season, perhaps as a result of milder weather.
Alastair added: "Edinburgh has fallen back but from a considerable high in both occupancy and revenue so that was, perhaps, to be expected.
"Glasgow retained high occupancy but this may have been at the expense of revenue which dipped during October."