Scottish retail figures 'worst on record'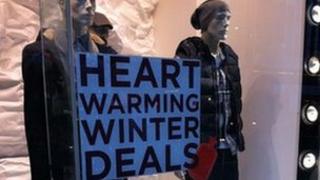 November retail sales in Scotland fell at their fastest rate since the Scottish Retail Consortium (SRC) began compiling them 12 years ago.
The SRC figures showed total sales fell by 1.3%, with sales of non-food goods down by 3.3%.
Like-for-like sales - which strips out the effect of new store openings - dropped by 2.1%.
The figures also showed Scottish consumer spending trailing the UK as a whole.
Total November sales across the UK rose by 1.7%, with like-for-like down by 0.6%.
Scottish Retail Consortium director Ian Shearer described the sales figures as "troubling".
He added: "Retailers in Scotland have had an exceptionally tough year, worse than the UK as a whole.
Confidence 'lower'
"Consumer confidence is currently lower in Scotland than the UK average and householders are more worried about jobs and the state of their personal finances.
"Mild weather continuing into November added to the woes of clothing and footwear retailers who struggled to sell winter ranges, and seems to have led people to begin their seasonal shopping later than a year ago."
Spending on more expensive items such as furniture and carpets were "well down on a year ago", according to the survey, "with big-ticket purchases particularly tough".
However, spending on DIY "benefited from the trend of improving rather than moving home".
'Make or break'
The SRC has predicted this Christmas will be "make or break" for many retailers.
David McCorquodale, head of retail in Scotland for KPMG, said: "It was hoped that cash-strapped consumers might look to spread the cost of Christmas over a period of two to three months, but the sales figures do not reflect that.
"Any sales are hard-won, with high discount and promotion levels. Retailers' performance is suffering because of weak top-line growth and declining margins, making the backdrop even more challenging."
He added: "For many retailers, December is a balance of hope that consumers find some festive release balanced with being prepared to make tough decisions to plot a path in such challenging conditions."
A Scottish government spokesman said its own Retail Sales Index was a "broader and more comprehensive" measure of retail sales, which also captured levels of internet sales activity in Scotland.‬‪
He said: "The Retail Sales Index records real turnover from approximately 700 companies across Scotland and shows that the volume of retail sales in Scotland grew by 0.5% over the year to the third quarter of 2011."
The spokesman added: "The steps that we are taking to support Scotland's economy within the powers currently available to us will directly benefit the retail sector."