Caltongate plan set to be revived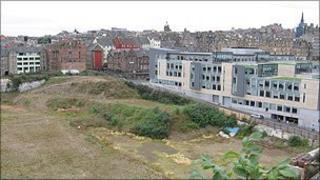 The redevelopment of Edinburgh's Caltongate site in Edinburgh's Old Town is back on the agenda.
A consortium, including South African developers, has bought part of the land, which has planning for a hotel, office complex, 30 shops and 160 homes.
The initial plans collapsed after developers Mountgrange Capital went into administration in 2009.
It was said to be the biggest development in the capital for a decade and attracted widespread opposition.
The new plans, for the site between Waverley railway station and the Royal Mile, are likely to be more modest.
The consortium, lead by Artisan Real Estate Investors, hopes to produce designs based on the previous plans in the new year.
Artisan managing director Lukas Nakos said: "Caltongate has remained the most prominent gap-site in Edinburgh's city centre for more than a decade - a situation we now intend to change.
"The sheer size and scale of the site, lying at the heart of one of the world's most historic city centres, offers unparalleled opportunities for a high quality development that can do justice to its unique and spectacular setting."
Council debate
Cllr Tom Buchanan, convener of the council's economic development committee, said the fact Artisan had chosen Edinburgh illustrated how attractive the city was for foreign investors.
The new plans are only for part of the land from the initial development.
Several of the plots belonged to the city council, which withdrew them from the sale being handled by administrators Deloitte.
However, Artisan has approached the council to acquire some of these assets. This will be debated by councillors on 22 December.
The original Caltongate scheme was unveiled in 2001, gaining planning consent the following year.
In 2004 the site was sold to Mountgrange Capital, which opted to develop more ambitious plans, approved in 2008.
The company collapsed in 2009 and the Bank of Scotland pulled out its financial support for the project.
The developer said the bank had classified its loan as a "toxic asset".