Dundee Port in renewables development pledge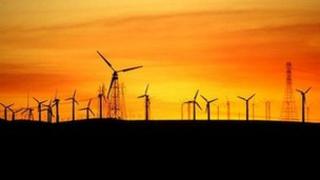 Dundee Port has been earmarked for development as a hub for the rapidly growing offshore renewables sector.
Energy giant Scottish and Southern (SSE) has identified Dundee as a key location for the development of its offshore wind supply chain.
It is thought the development could lead to the creation of 700 jobs.
Dundee was recently ruled out as a location to manufacture turbines by the Spanish company Gamesa which said it was too small.
Now a Memorandum of Understanding (MoU) has been signed by energy giant SSE, Dundee City Council, Forth Ports Limited and Scottish Enterprise to develop the port.
First Minister Alex Salmond said Scotland had a "fantastic opportunity" to become a base for the European offshore renewables industry.
He added: "I'm determined that communities across Scotland will contribute to and benefit from the renewables revolution that's sweeping Europe and beyond.
"As one of our great port cities, Dundee is ideally placed to become a key hub for the rapidly growing multi-billion pound offshore renewables industry, particularly and initially in offshore wind."
Sandy Biggar, director of procurement for SSE: "Today's announcement of our development intentions shows the strength of our commitment to Dundee and we look forward to working with the local authority, enterprise agencies and the people of Dundee to attract world class offshore wind suppliers to the city."