British Airways boss in air links reassurance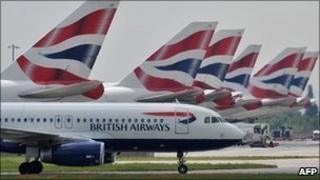 British Airways boss Willie Walsh has sought to dampen fears over the future of Scottish air links to Heathrow.
It follows news that the airline's owner, IAG, has agreed a binding deal to buy BMI from Lufthansa.
The move, which is subject to clearance by competition bodies, would give BA a monopoly of routes between Heathrow and Scotland's three largest cities.
But Mr Walsh told BBC Scotland the airline would provide "more than enough capacity" for the UK hub.
Scottish business leaders expressed concern last month when the takeover deal was first announced, arguing it could lead to fewer flights or higher fares.
Mr Walsh did not raise the issue of fares but said the deal with Lufthansa secured links to the UK regions.
He said: "Scotland is a very important market for us - we are one of the biggest operators there.
"We do face quite a lot of competition from other airlines and indeed the train has been seeing a significant growth in passenger numbers in recent years, so Scotland will continue to form a very important part of our strategy."
'No need for concern'
Mr Walsh continued: "What we have seen when BMI has withdrawn from routes, we have actually increased our capacity, so when BMI pulled out of Glasgow recently, we at British Airways significantly increased the amount of seats we had in the market, and that reflects the demand in the market.
"I don't think anybody need have any concern about having connectivity to Heathrow.
"We will provide more than enough capacity and we will continue to compete effectively with other airlines operating between Scotland and London and competing with the train as well."
Mr Walsh said no other Heathrow-based airline had expressed interest or shown any willingness to connect Heathrow with Scotland.
He added: "We continue to do so and have increased capacity where BMI has reduced capacity.
"I think BA has demonstrated its commitment to Scotland, not just in terms of connectivity to Heathrow but to London City, where we have significantly increased our services from Edinburgh and Glasgow, and into Gatwick as well."
'Key questions'
Following the deal announcement, Scottish Labour said there were "key questions" which IAG and Lufthansa should answer, including whether there would be any reduction in the number of planes operating between Edinburgh, Aberdeen and London.
The party also said there were questions over the BMI Baby and BMI Regional airlines, which Lufthansa has the option to sell before the deal with IAG is completed.
Shadow Scottish Secretary Margaret Curran said: "If BMI Baby and BMI Regional are not included in the sale to IAG, and if these operators face an uncertain future, does this put at risk routes between Scotland and the East Midlands?
"If Aberdeen-based BMI Regional remains with Lufthansa, what do these plans mean for services between Scotland, Copenhagen and Zurich and the jobs created by these services?
"At a time of rising unemployment, everything should be done to safeguard the jobs of people working for BMI, BMI Baby and BMI Regional in Scotland," she added.
Guarantees call
The Scottish National Party said it wanted guarantees over the future of Scottish air links.
SNP Westminster transport spokesman Angus MacNeil commented: "There is a worry that BA will give its international slots at Heathrow priority over domestic services - and Scottish passengers must not be left with a second-class service."
He added: "We have already seen the loss of valuable air links between Scotland and Heathrow, and if BA takes over its only rival, then remaining slots will clearly be at risk. We must have real guarantees that further domestic slots will not be withdrawn."
The Scottish Chambers of Commerce reacted cautiously to the deal.
Chief Executive Liz Cameron said: ""This announcement is just the beginning of a process which still has a long way to go in terms of regulatory assessment, including competition clearance.
"IAG must continue to assure businesses of their commitment to maintaining or improving connectivity to and from Scotland."
IAG, which agreed to buy BMI for £172.5m, will gain 56 more slots at Heathrow Airport under the binding deal.
It warned the move could lead to job losses but did not specify how many.
The airlines said they hoped the takeover would be completed in the first three months of next year.