First-time buyer numbers in 35-year low, says report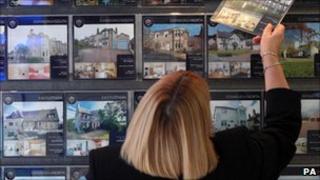 The number of first-time buyers in Scotland has fallen to its lowest level for 35 years, according to a report.
The Bank of Scotland estimated about 17,000 first-time buyers this year - the lowest annual total since 1976.
The figure was 4% lower than last year and less than half the recent peak of 39,100 in 2006.
However, the review also suggested more than three-quarters of towns and cities were affordable for first-time buyers in November.
The average house price paid was affordable for someone on average earnings in 77% of all local authority areas in Scotland.
This compared with just 31% at the peak of the housing market in 2007.
Bank of Scotland said much of the recent decline in first-time buyers could be explained by the need to put down a bigger deposit.
The average deposit in the first 11 months of 2011 was £22,396.
As a proportion of the purchase price, the average has increased from 10% in 2007 to 21% in 2011.
'Most affordable'
South Ayrshire was the most affordable area in Scotland and the UK for a first-time buyer, followed by Renfrewshire and North Ayrshire.
Scotland was the sixth most affordable UK region, while London was the only region with no affordable areas.
Bank of Scotland housing economist Nitesh Patel said: "Housing affordability for those looking to get onto the property ladder for the first time has improved significantly over recent years, largely as a consequence of the decline in house prices since 2007.
"As a result, more than three-quarters of towns and cities across Scotland are affordable for first-time buyers compared with less than one-third at the peak of the housing market in 2007.
"Seven of the ten most affordable areas for first-time buyers across the UK are in Scotland.
She added: "Nevertheless, conditions for potential first-time buyers remain tough, as highlighted by the low numbers of people buying their first property.
"Difficulties raising the necessary deposit and concerns over the economic climate are preventing many from entering the market."