Bus firm Alexander Dennis drops interest in rivals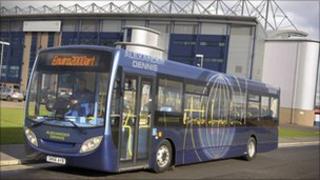 Falkirk bus manufacturer Alexander Dennis has dropped a potential takeover bid for rivals Optare.
Dennis was considering making an offer for North Yorkshire-based Optare, which had already agreed a takeover deal with minority shareholder Ashok Leyland.
But the Scottish firm withdrew its interest on Thursday after being told Ashok would not sell its stake in Optare "to anyone at any price".
Dennis said it had withdrawn after "careful consideration".
Dennis announced its interest in Optare a week after news that Ashok Leyland - part of the India-owned Hinduja Group - planned to increase its minority stake in Optare to 75.1% through a £4m share placing.
In a stock market announcement on Thursday, the Scottish firm said: "The board of Alexander Dennis Limited (ADL) announces that, after careful consideration, it has withdrawn its interest in considering making an offer for the entire issued share capital of Optare."
"Following the announcement yesterday that ADL might be prepared to consider making an offer, ADL was advised by Optare's financial adviser, Cenkos Securities plc, that 'we have received confirmation from Ashok Leyland that it has no intention of selling its stake in Optare to anyone at any price'."
It added: "As Ashok holds 26% of the issued share capital of Optare and ADL has been unable to obtain any of the information on Optare requested on 23 December 2011, the board of ADL has concluded that it will not pursue further its possible interest."
Ashok, which has seven plants in India, one in the Czech Republic and one in the Middle East, acquired a 26% stake in Optare in July 2010.
Optare employs 500 people and is based at Sherburn-in-Elmet, North Yorkshire.