Lloyds TSB Scotland survey: export activity plunges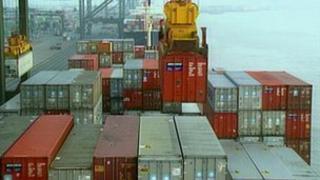 Export activity in Scotland has "plunged" in recent months, according to a business survey.
Lloyds TSB Scotland's business monitor said 21% of firms reported exports up between September and November, while 38% said they fell... a gap of -17%.
This contrasted with a positive picture in the previous quarter and the same quarter last year.
Lloyds said export activity appeared to have been "severely affected" by the global slowdown and eurozone crisis.
The survey of more than 400 firms also suggested recovery in the wider Scottish economy was slowing, although it said there was no indication of a return to recession.
In the latest quarter, 30% of firms surveyed increased turnover, while 37% experienced static turnover and 33% experienced a decrease.
The figures indicated a slight deterioration on the previous three-month period.
On a positive note, the survey suggested turnover in the production sector improved on the previous quarter.
Donald MacRae, from Lloyds TSB Scotland, said: "This latest business monitor suggests the already muted recovery in the Scottish economy has stalled.
"Subdued domestic demand coupled with the global slowdown has hit both services and manufacturing.
"There is no definite sign of a lapse into a 'double dip' but every indication of an already slow recovery slowing further to the point where growth is negligible or non-existent."
He added: "In the face of slowing global demand, falling business and consumer confidence in the UK and cuts in government spending, the Scottish economy is struggling to maintain growth and momentum.
"A more vigorous recovery awaits an uplift in both consumer and business confidence".