Falkirk tops survey of Scottish house prices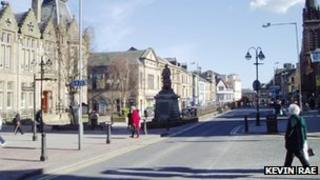 Falkirk experienced the biggest rise in house prices in Scotland in 2011, according to a bank survey.
The Bank of Scotland said the average selling price in the town rose by 12% on the previous year to reach £126,548.
The figures - based on the bank's own data - saw Falkirk achieve the second biggest percentage gain across the UK.
Three other Scottish towns featured in the UK's top 20 gainers - Inverness, Perth and Edinburgh.
Inverness prices rose by 9%, while Perth climbed by 6% and Edinburgh by 4%.
Two towns featured in the UK's bottom ten performers - Dunfermline, which saw the average selling price fall by 15%, and Ayr where prices dropped by 13%.
The bank said the average Scottish house price was £140,005, down by 3% on 2010.
Woking in Surrey recorded the UK's biggest rise in house prices, at 16%.
Nitesh Patel, from Bank of Scotland, said: "There have been significant differences in performance in towns across Scotland in 2011.
"The ease of commuting to both Edinburgh and Glasgow, combined with the town's relatively low average property prices, has led to upward pressure on prices in Falkirk.
"At the other end of the spectrum, difficult economic conditions and considerable pressure on household finances have resulted in house price falls in towns such as Dunfermline and Ayr."