Jobs saved as 20 D2 Jeans stores sold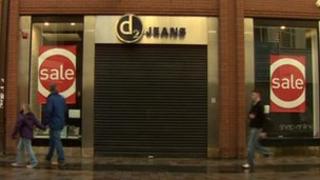 About 200 jobs after expected to be saved after administrators secured the sale of 20 D2 Jeans stores in the UK.
The stores - six of which are based in Scotland - have been bought by menswear fashion retailer Blue Inc.
The Ayrshire-based clothing chain went into administration last month, leading to the closure of 19 UK stores and the loss of 200 jobs.
Administrators BDO said Blue had bought 20 of the remaining 28 outlets but a buyer had yet to be found for the rest.
The Scottish stores which have been sold are based in Ayr, Coatbridge, Dunfermline, Livingston, St Enoch Centre in Glasgow and Glasgow Fort Shopping Park.
The other stores are based at various locations in England and Northern Ireland.
James Stephen, from BDO, said: "We are pleased that it has been possible to find a buyer for 20 of the D2 stores that have been trading through administration.
"We will continue to assess the options for the remaining D2 Jeans stores to secure the best possible outcome for creditors and, wherever possible, employees."
Blue Inc, whose backers include former Marks & Spencer boss Sir Stuart Rose, already has 171 stores and last year bought 46 Officers Club shops out of administration.
Managing director Steven Cohen said his company was confident there was a bright future for the D2 stores it had acquired.
He added: "We are also pleased to be saving approximately 200 jobs within these stores, which will be rebranded as Blue Inc on local high streets in the coming months."
Last month was the second time in two years that the D2 Jeans chain, originally set up by Scottish entrepreneur Sir Tom Hunter, had gone into administration.
On the first occasion, management struck a deal to buy more than 40 of its stores out of administration.
But about 32 stores were not included in that rescue deal.