Scottish service sector aids output growth, says survey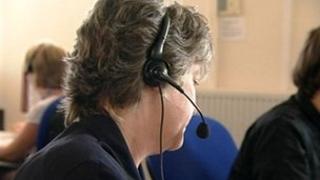 A pick-up in the service sector helped Scottish firms maintain output growth in December, according to a monthly business survey.
The Bank of Scotland's Purchasing Managers' Index (PMI) indicated the improvement compensated for a fall in new manufacturing orders.
The survey suggested new business wins overall rose at their fastest pace since April 2011.
Employment also increased last month, but at a slower pace.
The index posted 51.2, up marginally from 51.1 in November. Any figure over 50 indicates the sector is growing.
Growth in output was confined to the service sector, which saw a "robust" month-on-month increase in new work.
The bank said the sector had been boosted by new product launches and successful marketing.
However, new orders placed with manufacturers continued to fall - albeit at a slower rate.
'Solid' expansion
The index posted a slight rise in output growth in Scotland, while the UK as a whole expanded "solidly" on the month.
Employment in Scotland's private sector rose for the second month running in December, but only at a modest pace.
Bank of Scotland chief economist Donald MacRae said the PMI had been positive for all 12 months of 2011 but had seen a slowdown in the last four months.
He added: "A pick-up in the services sector at the end of last year has compensated for falling output and export orders from a manufacturing sector suffering from the slowing of the eurozone economies.
"The increase in new business for the first time in four months is very welcome and suggests the Scottish economy, while struggling to grow, is avoiding a fall in output."
Financial services
Meanwhile, a separate survey has suggested UK financial services saw business volumes grow in the final quarter of last year - and at their fastest pace since June 2007.
The CBI/PwC Financial Services Survey indicated business increased for the seventh quarter running in the three months to December.
Of more than 100 financial companies surveyed, 53% saw volumes rise in the quarter while 24% reported a fall.
Overall, firms said they expected business to continue growing in the next three months - albeit at a slightly slower pace.
But the survey found that positive picture was "tempered" by a fall in sentiment and employment levels in the last quarter.
Firms also suggested they planned to invest less over the coming year.