Emirates Airline plans Glasgow expansion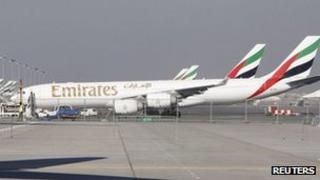 Emirates Airline has announced a second daily non-stop flight from Glasgow to Dubai, starting from the beginning of June.
Emirates has been flying from Glasgow since 2004 and this increases capacity by 47%, an extra 199 seats each way.
It will generate up to 12 new direct jobs and it is claimed indirectly support many others with Emirates' contracted suppliers.
Emirates said the move illustrated the company's commitment to Scotland.
The Dubai-based group claimed the extra flight would generate "millions in visitor revenue, contributing to the overall Scottish economy".
Laurie Berryman, Emirates' vice president UK & Ireland, said: "Our Glasgow route has been a real success story, and we are extremely confident that there is the demand for additional services flying east to Dubai and onward to our global network of over 115 destinations.
"The service brings real benefits to Scotland's economy and its international competitiveness."
Since it started flying from Glasgow seven years ago Emirates has carried more than 1.7 million passengers and more than 46 million kilos of cargo to and from the Middle East and beyond.
Amanda McMillan, managing director of Glasgow Airport, said: "Since its launch in 2004, Emirates' Dubai route has proved hugely successful with business and leisure passengers and its decision to introduce a second daily service is fantastic news for both Glasgow Airport and Scotland as a whole."
Emirates is also to introduce a first class cabin onto both daily services, which is the first time this has been offered by a commercial airline from Scotland.
The company signalled at the end of last year that it had plans to expand with immediate orders for another 190 aircraft.