Scottish surveyors expect house price fall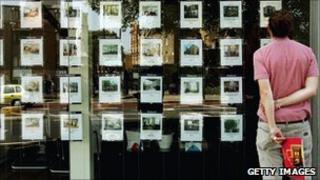 Property surveyors in Scotland have predicted that house prices will fall slightly in the first three months of the year.
The survey from the Royal Institution of Chartered Surveyors (RICS) showed a dip in the number of buyers inquiring about properties in December.
More than half of those surveyed reported falling prices last month.
However, members are confident the number of sales will pick up in the first part of this year.
The institution has warned that sellers with unrealistic expectations of price are holding back the market.
Richard Clowes of DM Hall in Galashiels said: "In most cases sales are being agreed well below the home report value."
Sarah Speirs from RICS Scotland commented: "December is traditionally a quieter month for the housing market and buyers seemed to have a seasonal break from the market.
"Continuing problems with the economy and the ongoing instability in the eurozone seem to be weighing heavily on the housing market and expectations for the coming months are fairly subdued. So sellers need to price their property realistically to attract buyers."
Greg Davidson of Graham and Sibbald in Perth said: "Economic circumstances (particularly in relation to a lack of liquidity in the financial markets) have limited the markets and this circumstance is likely to continue into 2012."