David Sands stores sold to Co-op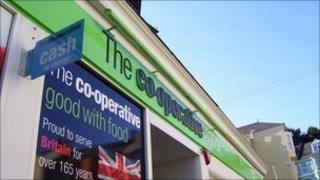 The David Sands chain of 28 convenience stores in Fife, Perthshire and Kinross have been sold to the Co-operative Group for an undisclosed sum.
Nearly 700 workers will transfer as part of the deal.
The acquisition is part of the Co-op's plan to increase the number of stores by 300 across Britain in three years.
Management at David Sands said they hoped the new owners would continue the commitment to sourcing produce from local suppliers.
The Co-operative has 370 food stores in Scotland, which are serviced from a new distribution centre in Newhouse, near Glasgow.
Stronger business
It is the fourth largest food retailer in Scotland with an annual turnover of more than £1bn.
Peter Marks, chief executive of The Co-operative Group, said: "This major acquisition will significantly strengthen our food business in Scotland, especially in Fife, Kinross and Perthshire, and we look forward to working with the new team from David Sands.
"The Sands stores complement our existing food estate, which operates from the Highlands and Islands to the Borders, and they will be a valuable addition to our portfolio as we forge ahead with our programme to grow the business by seeking new opportunities at the heart of local communities right across the UK."
David Sands, chief executive of David Sands Ltd, added: "We believe that the acquisition of our business by The Co-operative Group, another responsible retailer, offers a fantastic opportunity for continued investment in our stores and our people, and a continued commitment to Scottish local communities, local produce and local suppliers."