Vladimir Romanov counts losses on Edinburgh property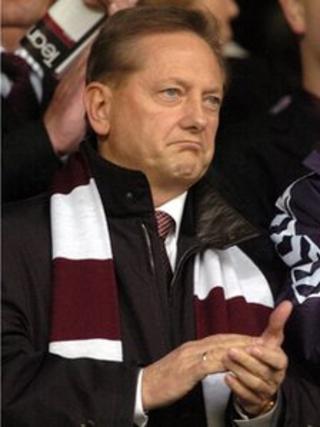 Hearts owner Vladimir Romanov is likely to make a loss as he sells off some property in Edinburgh city centre.
The Lithuanian billionaire reportedly paid about £20m for the former Royal Bank of Scotland building in St Andrew Square and surrounding properties in West Register Street in 2007.
The plan was to turn them into a boutique hotel.
However, the properties have lain empty and now the West Register Street building is up for sale.
The property is likely to achieve a much lower price than Mr Romanov's investment company UBIG paid for it.
Mark Jones, a director at property firm DTZ, which is responsible for selling the West Register Street site on behalf of UBIG, said: "There have been expressions of interest in the building for some time."
It is understood the property is now under offer.
Mr Jones was unable to disclose how much was being offered for the building but said the market for hotel-type properties was "robust" and that "reasonable prices" were being achieved.
However, commercial property prices have slumped since the property boom in the mid 2000s.