Scottish retailers highlight sector's 'importance'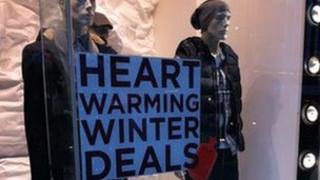 Scottish retailers have launched a report which seeks to highlight the sector's increasing importance to the economy in Scotland.
The Scottish Retail Consortium claimed competition in the sector had led to Scotland's consumers enjoying some of the cheapest prices in Europe.
According to the report, retail remains Scotland's largest private sector employer - supporting 240,000 jobs.
The SRC said about 10% of Scottish businesses were shops.
This figure was slightly higher than the average for the UK as a whole.
The consortium's statistics claimed that retail sales of Scottish food and drink brands across Scotland, England and Wales had increased by 32% since 2007.
It put their combined value in 2011 at £1.85bn.
The SRC also suggested that competition between retailers meant UK consumers enjoyed prices which were about 5% lower than the rest of the Eurozone area.
Hard-pressed consumers
Scottish Retail Consortium chairman Ken MacKenzie said: "With some of the most challenging market conditions for years, Scottish retailing is at a crossroads yet remains one of our most innovative and enterprising sectors.
"Our new report shows the benefits of a vibrant retail sector are felt by Scottish producers and the tourist trade, among many other business services.
"Even with rising input costs, competition among retailers keeps the price of a basket of goods below the EU average, delivering benefits both for hard-pressed consumers and the rest of the economy."
The consortium called for government to protect the sector and to hold back increasing costs, including taxes.
The Scottish government's health levy on bigger retailers which sell alcohol and tobacco is due to come into force in April.
A Scottish government spokeswoman said: "The public health supplement will affect only a small number of the very largest retailers in Scotland - approximately 240 stores, which represents 0.1% of business premises.
"We have consulted with businesses and retailers on our plans as part of the draft budget and this will continue as we take plans forward.
"It is misleading to speculate how our plans, which will be used towards preventative spend measures, will affect retailers."
Ministers are expected to give further details of the public health levy in the coming weeks.