Scottish air passenger numbers soar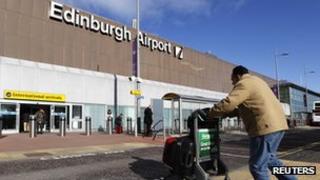 Passengers numbers at Scotland's main airports rose at a faster rate than those in the rest of the UK.
Airport operator BAA said there was an 8.1% increase in the number of travellers passing through Edinburgh, Glasgow and Aberdeen airports.
That was compared to an increase of 4.4% in all of BAA's UK airports.
Aberdeen saw the biggest rise in passengers although Edinburgh remained Scotland's busiest airport.
A total of 9.4 million passengers passed through Edinburgh Airport last year - a rise of 9.2%.
Aberdeen's passenger numbers increased by 11.8% over the year with 3.1 million travellers using the airport.
Glasgow increased passenger numbers by 5.1% to 6.9 million.
All Scottish airports saw a big rise in passenger numbers in December but that was mainly due to poor figures the previous year when snow disrupted travel plans.