500 jobs go at WJ Harte construction firm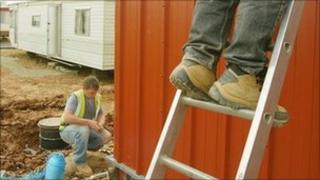 About 500 construction jobs are to go with the collapse of a civil engineering group based in South Lanarkshire.
WJ Harte and RJT Pennant have been placed in administration.
All 720 staff have been sent home but more than 200 of them will be recalled to complete work on the order book
The firm blamed the downturn in the building trade which cut its turnover by more than half and bad debts from financially-troubled client firms.
Business advisers PKF have been appointed joint interim managers of both companies.
The Harte Group has been in operation since 1974.
Turnover peaked in 2007/08 at £102m but fell back to £40m over the past two financial years.
Anne Buchanan, corporate recovery partner with PKF, said: "Harte Group is a long-established, highly-regarded firm servicing the construction industry.
"The firm has experienced a severe reduction in turnover over the last few years as well as considerable levels of bad debt from creditors who themselves have gone bust.
"Despite shedding jobs over the last few years to cope with this decline in turnover the firm is now unable to continue trading."
Harry Frew, of UCATT construction workers union, said he would be seeking talks with the administrator "to find out about timescales and plans, and see if there were any opportunity to sell off some of the company with the hope of saving more of the jobs".