Passenger boost for reopened Airdrie-Bathgate rail link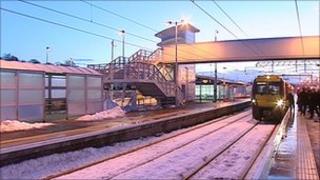 A reopened rail link between North Lanarkshire and West Lothian has boosted passenger numbers along the route, according to Transport Scotland.
Figures for the £300m Airdrie-Bathgate Rail Link, which opened just over a year ago, showed a significant increase in usage at existing stations.
Transport Scotland said three new stations on the route were also on target to meet passenger forecasts.
The line reopened in 2010 after being closed to passengers for 54 years.
The new 15-mile track allows trains to run all the way from the west of Scotland through Glasgow Queen Street to Edinburgh, via Airdrie and Bathgate.
Transport Scotland said increased frequency and greater seating capacity had helped boost usage at existing stations on the route, with Bathgate (+4%), Uphall (+21%) and Livingston North (+12%) all showing increases in travel to and from Edinburgh.
New stations at Armadale, Blackridge and Caldercruix were also all on target to meet their initial annual forecasts.
'Modern trains'
Infrastructure Secretary Alex Neil said: "The route has allowed more communities in West Lothian and North Lanarkshire to be linked by rail to both Glasgow and Edinburgh, opening up employment, education and social opportunities for people living there.
"New car parks and modern trains have also made it easier and more comfortable for people to travel by train."
Transport Scotland said the boost in passenger numbers had come despite severe winter weather at the time the new link opened in December 2010.
The full frequency of four trains per hour in each direction has operated on the route since May 2011.
Scotrail managing director Steve Montgomery said: "The continued growth in passenger journeys is to be welcomed. The figures are a testament to the attractiveness of rail travel to local communities."
'Good news'
Independent watchdog group Passenger Focus also welcomed the figures.
Passenger Focus Scotland manager Robert Samson said: "It is good news. The reopening of the line and the frequency of services on offer has been attractive for passengers and has opened up new opportunities for people to change their way of travel."
The rail link involved stations at Bathgate and Drumgelloch being re-built, with Livingston North and Uphall stations being upgraded.
The original railway between Airdrie and Bathgate closed to passenger trains in 1956, and to freight services in 1982.
Funded by the Scottish government, the line was intended to open up new economic and educational opportunities for those living along the route and offer an alternative for commuters using the M8.