Clydesdale Bank halts new commercial property lending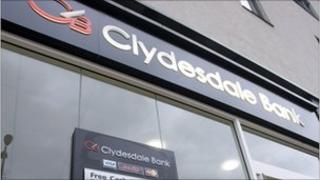 The Clydesdale and Yorkshire banks have put all new commercial property lending on hold.
The banks, which are owned by National Australia Bank Group, said the move followed a "reduced appetite" for new non-residential property lending.
Glasgow-based Clydesdale said the banks would continue to provide support for existing customers.
It stressed residential lending was not affected by the move.
A spokesman also described reports that some parts of Clydesdale's £300m legacy loan portfolio might be sold as "speculative".
In a statement, the bank said: "While our new lending to businesses increased by over £7bn in the past two years, we have been clear for some time about our reduced appetite for new commercial property lending and have sensibly introduced tighter controls in this area.
"Many commercial property businesses have elected not to extend their borrowing during the protracted economic uncertainty.
"We continue to provide support for existing customers."
Earlier this week, Clydesdale Bank had £400m of extra capital allocated by its parent company.
The move was to boost its reserves as a buffer against a potential downturn in the UK economy, as bank regulators look to higher levels of capital.
National Australia Bank said it was allocating the money to its Clydesdale subsidiary, which includes Yorkshire Bank, from its own capital reserves.