Airdrie Savings Bank increases lending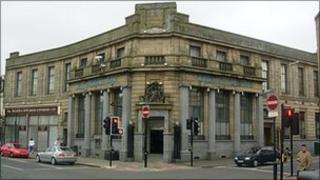 Airdrie Savings Bank has increased its lending for the third year in a row, according to its latest annual results.
The UK's last remaining independent savings bank announced it lent a record £48.5m - a 35% increase on 2010.
Deposits at the bank also rose by 5.4% to reach £137.6m, but pre-tax profits fell last year by £54,000 to £272,000.
Last year, it expanded out of its traditional Lanarkshire heartland for the first time in 176 years by opening a branch in Falkirk.
The move was the first stage of an expansion plan being supported by a group of key Scottish business figures who deposited £10m into the bank in August 2010.
The group included Brian Souter, Ann Gloag, Ewan Brown, Alastair Salvesen and Sir Tom Farmer.
In announcing the annual results, outgoing bank president Bob Boyle said he remained confident Airdrie's continued expansion was on track, despite ongoing economic uncertainty.
Bank projections
He said: "The bank's budgets for the coming year and projections for ensuing years are based on a continuation of a low interest rate environment.
"And given a continued focus on cost control and increasing business activity - particularly customer advances - the effects of such low interest rates are capable of being addressed positively.
"The principal risk then facing the bank remains the potential impact of increasing bad debts, in respect of which the bank has no intention of abandoning its long-term prudent approach to lending."
Meanwhile, Airdrie Savings Bank is set to launch a new Banking Apprenticeship Scheme, with four apprentices set to be taken on this year.
The bank was founded in 1835 and was born out of the general "thrift" movement prevalent at the time.
It allows accounts to be opened with a deposit of 5p.