Moray firm Forsyths starts £3.3m expansion project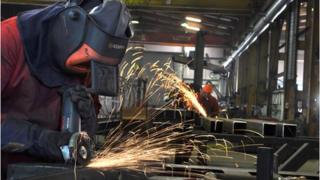 A Moray fabrication firm has launched a £3.3m manufacturing expansion project which will lead to 25 new specialist jobs.
Forsyths Ltd is carrying out construction work and installing high-tech equipment at its Rothes site.
Highlands and Islands Enterprise (HIE) is supporting the multi-million pound expansion with almost £500,000.
Forsyths said the project was the single largest investment in the company's history.
It expects it to lead to a significant increase in turnover and boost the company's international presence over the next three years.
The construction work is set to benefit the local Moray economy by more than £1m.
The Forsyth Group, which employs 285 people, specialises in structural steelwork, piping, pressure vessels and tanks for the oil and gas market and supplies distillation equipment for the drinks industry.
International interest
Forsyths Ltd chairman Richard Forsyth said: "As a business, we are currently experiencing significant international interest with orders reaching as far ahead as 2014.
"This development will be vital in allowing us to continue to meet the needs of our existing client bank as well as being able to introduce new customers."
The firm said 70% of the expected additional output was likely to be for its existing oil and gas market.
Forsyths, which has a long tradition as a coppersmith dating back to 1880, also expects to see an increase in business for the distillation sector.
The company sells its products around the world, with markets including Canada, America, Brazil, Korea, Japan, Taiwan, Thailand, Singapore, China and South Africa.