Glasgow Taxis in £1.85m overhaul of technology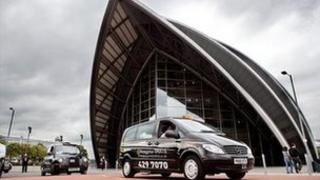 Scotland's largest taxi company has invested £1.85m in new technology in a bid to improve customer service and safety.
Glasgow Taxis Ltd has installed new IT despatch and telephone systems and developed a new online booking system with live vehicle tracking.
It has also renewed more than 550 taxi radios.
It now plans to introduce a new booking app for iPhones, androids and smart phones as well as overhaul its website.
Glasgow Taxis vice chairman Stephen Flynn said: "We have made this significant investment to take the company to the next level in terms of safety and service.
"It will truly modernize the business and ensure we can provide best possible service to all customers as well as comprehensive support for our membership and drivers."
Mr Flynn said the firm's call centre staff received additional training to help them process more than 500,000 calls since its new despatch and telephone system went live in October.
He added: "In the first few weeks of implementing those systems we did experience some challenges but these were quickly overcome."
Glasgow Taxis was formed in 1997 from a merger of Glasgow's major taxi companies.
It operates as a Friendly Society and has a fleet of nearly 1,000 taxis in the city.